On-Demand Webinar
Empowering Women at Work:

Career Development, Maternity, Menopause, and more.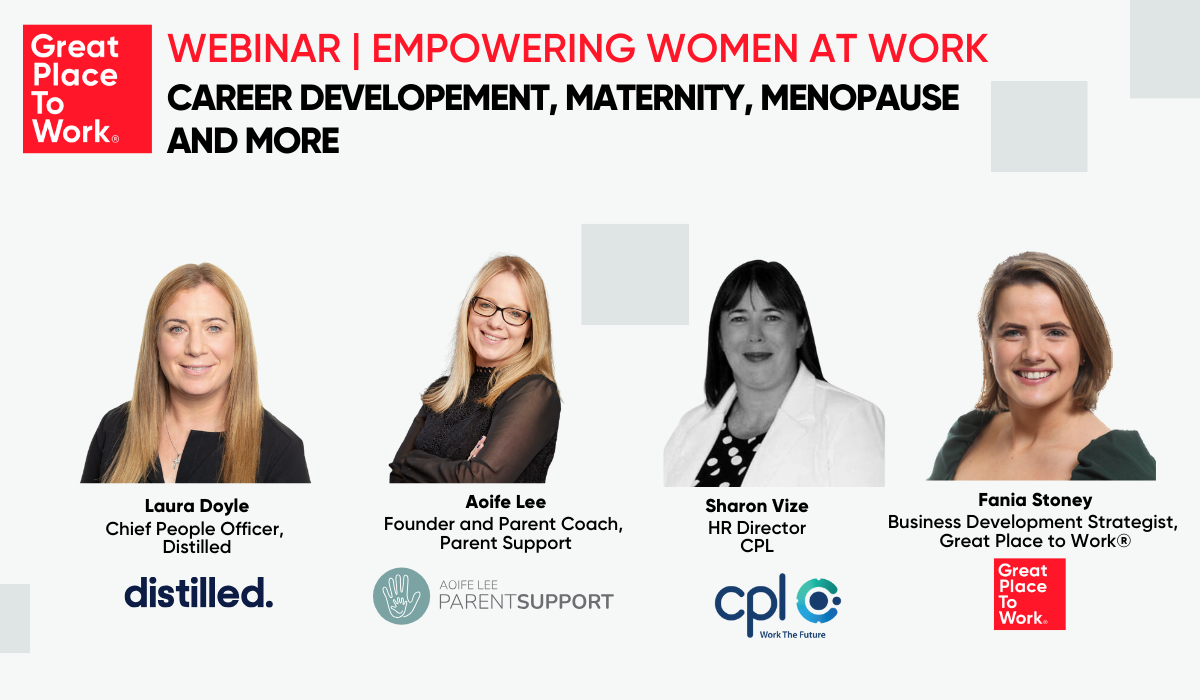 Women are skilfully juggling their career aspirations while fulfilling their personal and domestic responsibilities. As leaders and employers, it is our duty to support and enable women as they navigate the various challenges and milestones in their lives.

Interested in hearing about the great practices to do so? We got your covered! Watch the recording of this informative webinar about empowering women at work, featuring Great Place to Work® experts and guest speakers from Distilled, Parents Support, and CPL.

Watch the recording to hear from experts and clients leading the way in the Irish industry:

• Laura Doyle, CPO of Distilled. Distilled also won the Menopause Workplace Excellence Award for Best Medium Company 2023! They are also one of the Best Workplaces™ for Women 2023.
• Sharon Vize, HR Director of CPL. CPL is one of the Best Workplaces™ for Women 2023.
• Aoife Lee, founder of Parent Support.

This webinar delves into diverse aspects of women's workplace experiences, career development, menopause, maternity, and more.

During the session, we also discussed the eligibility for Best Workplaces™ for Women and Menopause Awards.

This webinar is designed not only for HR professionals but for anyone interested in creating a more inclusive workplace. We encourage you to extend this to your colleagues.

.
Complete the form to watch the recording of this webinar.